How To Configure CleanMail Home
This document explains how to configure CleanMail Home for use with a POP3 email client like
Microsoft Outlook/Outlook Express
Eudora
Pegasus
The Bat!
and many others. The filtering is done when your mail client fetches the messages from your ISP's POP3 server.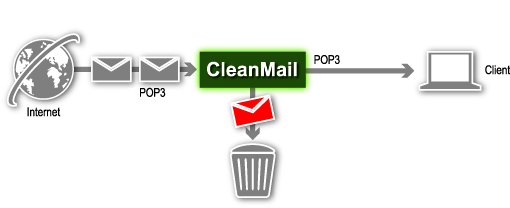 Quickstart Installation Guide
When you start CleanMail for the first time, the quick start wizard will guide you through the installation process.
Configuring Your Email Client
When the quickstart wizard is finished, you have to change the mail account settings in your email client software. Go to the mail account settings of your email client. Usually you will find the following settings:
Outgoing mail server (SMTP server):

Do not modify this setting, CleanMail does not interfere with outgoing mail.

Incoming mail server (POP3 server):

Write down this setting, and modify it to "localhost" or "127.0.0.1". Make sure you use the POP3 protocol to fetch mail.

User (Account):

Modify this setting to username:mailserver, using the mail server name you wrote down in the previous step.

Password:

Leave this unchanged.
Note that CleanMail does not support the IMAP protocol. If your mail client is configured to use IMAP, reconfigure it to use POP3.
Repeat this procedure for all mail accounts and mail clients you use. Test your new settings immediately: Send yourself a test mail. Use your account to send a message to yourself, or use an e-mail echo server (e.g. echo@tu-berlin.de).
If you want to uninstall CleanMail later, remember that CleanMail's uninstall program will not reset the POP3 port of your mail client back to 110, you have to do this by hand.
Resolving Port Conflicts
If you run CleanMail, and a mail virus checker on the same machine, this can be the first trouble you may run into: Both the mail virus checker and CleanMail contend for the POP3 port of your machine, but only one can use it, while the other fails to initialize. If CleanMail fails to grab the port, it will file a complaint in its log file and pop up a warning dialog (you will also find a 'address in use' message in the cleanmail.log file).
To fix this, set the POP3 port setting of your mail client to 111, and set the POP3 port number of CleanMail to 111, too (the setting can be found on the last page of the configuration wizard). This way you will get a checking pipeline like this:
EMail Client - (Port 111) - CleanMail - (Port 110) - AntiVirus - (Port 110) - ISP POP3 server
FAQ list
You can find a selection of questions and answers on our FAQ list. There are also links to additional "HOWTO" documents.
Your Feedback Is Welcome
Your feedback is welcome! Please submit hints and suggestions to .